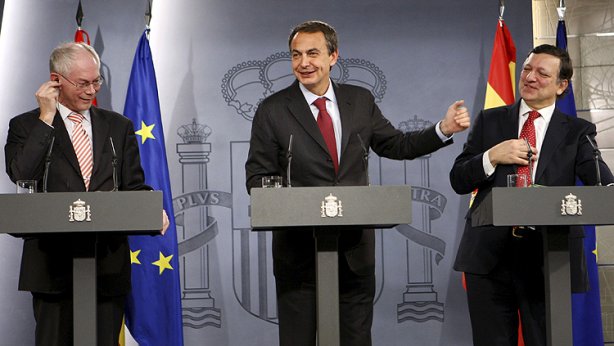 Spain holds the six-month rotating presidency of the 27-member European Union from January through June 2010. The following analysis explains the domestic political and economic context facing the Zapatero government during Spain's EU presidency. It then examines in greater detail several of the Zapatero government's stated priorities for Spain's EU presidency, and then closes with an assessment of what Spain may realistically expect to accomplish before it hands the EU presidency over to Belgium on July 1, 2010.
Spanish Presidency of the EU: High Hopes, Low Expectations
Soeren Kern | Strategic Studies Group | February 13, 2010
1. Introduction
Spain has responsibility for the six-month rotating presidency of the 27-member European Union from January through June 2010. The government of Spanish Prime Minister José Luis Rodríguez Zapatero has identified a number of key policy areas on which it plans to focus during its half-year at the helm of the EU.
Specifically, the Spanish EU presidency hopes to pursue four key priorities: 1) shepherding the bloc's tentative economic recovery; 2) boosting the bloc's international influence; 3) expanding the rights and freedoms of European citizens; and 4) overseeing implementation of the recently passed Lisbon Treaty.
At the same time, the Spanish EU presidency will be hamstrung by two important factors: 1) a severe economic crisis in Spain that has undermined the credibility of the Zapatero government, not only at home, but also across the EU; and 2) the entering into force of the Lisbon Treaty, which establishes a permanent EU president and foreign minister, and thus reduces the traditional role of the rotating presidency.
The following analysis explains the domestic political and economic context facing the Zapatero government during Spain's EU presidency. It then examines in greater detail several of the Zapatero government's stated priorities for Spain's EU presidency, and then closes with an assessment of what Spain may realistically expect to accomplish before it hands the EU presidency over to Belgium on July 1, 2010.
2. Spain's EU Presidency: Domestic Political and Economic Context
As Spain takes over the reigns of the EU presidency, the country is in the midst its worst economic downturn since it joined the European Union in 1986. The crisis, which has been accompanied by record-high unemployment rates in which more than 4.3 million Spaniards are without work, has seriously undermined domestic support for Zapatero, whose approval ratings are at an all-time low.
Zapatero and his advisors are hoping that Spain's EU presidency will draw voter attention away from the domestic economy as the prime minister is seen attending to foreign policy matters. They also hope Zapatero will be able to raise his profile abroad, as he takes the media spotlight while focusing on the international diplomacy associated with the EU presidency. Spain's economic crisis has reached such a critical level, however, that Zapatero is unlikely to enjoy much credibility, either at home or abroad, unless and/or until the domestic economy improves markedly.
Spain, which is Europe's fifth-largest economy, faces a host of daunting economic problems. It plunged into a recession at the end of 2008, from which it has failed to recover. Spain's economy has been especially vulnerable to the global credit crunch because growth relied heavily on credit-fuelled domestic demand and a property boom boosted by easy access to loans that has collapsed.
The country's jobless rate soared to almost 19 percent in the fourth quarter of 2009; the unemployment rate has doubled in just the past two years. The official rate of 18.83 percent is one of the highest in the EU, and far above the average of 10 percent for the 16 countries that share the eurozone.
A total of 4.326 million people were out of work in Spain at the end of December 2009, up 1.12 million from a year ago, according to the National Statistics Institute.[1] A total of 1.22 million households now have all their working-age members out of work. The government says that the jobless rate could exceed 20 percent during 2010. (In Spain, the unemployment rate for young people exceeds 40 percent.)
The Spanish economy contracted 0.3 percent in the third quarter 2009, its fifth straight quarterly decline, even as the entire eurozone officially joined the US and Japan in emerging from recession during the same period. The International Monetary Fund says Spain's economy will continue to contract (by 0.6 percent) throughout 2010.[2]
On January 30, 2010 the Zapatero government admitted that the budget deficit for 2009 would be larger than expected (€71.5 billion — five times the 2008 figure) and it unveiled a hastily produced plan to narrow its deficits by €50 billion over the next four years. Finance Minister Elena Salgado said the aim was to cut the deficit from a higher-than-predicted 11.4 percent of gross domestic product in 2009 to 3 percent in 2013, in line with Spain's promises to meet European Union budget rules.
As recently as 2007, the Spanish budget was in surplus by 1.9 percent of GDP, but the global economic crisis and €8 billion in emergency state spending measures to save jobs have led to one of the most pronounced reversals in history.
Salgado said that nearly a third of the 8.4 percentage points of deficit reduction required by 2013 would come from a cyclical return to economic growth and the withdrawal of temporary fiscal stimulus measures. Of the remainder, 1.1 percentage points will be derived from higher taxes and a drive against tax evaders, and only 4.1 percentage points from reduced spending, including a near-freeze on hiring for the civil service this year.
Even after the announcement, however, doubts remain about Spain's ability to control its budget spending, especially since one fifth of the proposed adjustment is expected to come from the autonomous regions and local authorities that account for more than half of spending. The central government, furthermore, specifically ruled out cuts in social security payments, education spending, research and development or foreign aid.
Compounding Spain's near- to mid-term economic problems, the country is facing a long-term demographic crisis, marked by a rapidly aging population. The Zapatero government recently announced plans to raise the retirement age from 65 to 67.[3] The new retirement age would be introduced in phases beginning in 2013, and would become fully effective in 2025.
Government demographers forecast that the number of Spaniards over the age of 64 will double over the next 40 years, constituting nearly 32 percent of the total population.[4] By 2049, there will be as many people aged 65 and over in Spain as there are people of working age.
Most European countries are debating how far to raise the minimum retirement age, to prevent pension costs exploding as the ranks of the retired swell compared to the working age population. But the problem is especially acute in Spain, which has one of the lowest birth rates in the world.
All of these factors have combined in recent months to put the Zapatero government on the defensive. Indeed, bad economic news has become a feature of daily life in Spain, and it has cast serious doubt on the Zapatero government's credibility, especially in the area of economic crisis management.
3. Spain's EU Presidency: Calls for Binding EU Economic Goals
Given the magnitude of Spain's economic problems, the Spanish government is trying to shore up its credibility both at home and abroad. In this context, Spain has made the fight against unemployment one of the main planks of its EU presidency.
Just ahead of the formal inauguration of Spain's EU presidency, Zapatero announced a new 10-year plan to promote economic growth in the EU.[5] Details of what is known as the 2020 Economic Strategy will be unveiled at an EU summit in Brussels on February 11.
Spain hopes the EU can agree on a replacement for the bloc's long-term growth strategy known as the Lisbon Agenda, which was supposed to make Europe the world's most competitive economy by 2010 but never achieved its aims as governments were under no obligation to conform.
With this in mind, Zapatero has proposed setting binding goals for all EU member states in order to improve the bloc's competitiveness on the world economic stage. Zapatero said: "Our main aim is to introduce a qualitative leap in our economic union by means of new common policies. It is absolutely necessary for the 2020 Economic Strategy … to take on a new nature, a binding nature."
Spain says the idea would be to reward countries with EU aid when they meet the binding targets, and to sanction those that do not. Indeed, Zapatero has called for penalties for non-compliance, in the form of cutbacks in EU subsidies for offending members.
This would imply that the EU would have the right to oversee national budgetary priorities, in addition to the existing Stability Pact which imposes limits on public deficits for eurozone members.
Zapatero says that "a certain number of countries back greater economic unity, France for example." Indeed, Paris has for some years has pushed for an "economic government," at least within those nations that share the euro single currency, despite resistance from Germany which sees it as a threat to the independence of the European Central Bank on interest rates.
Herman Van Rompuy, the EU's new permanent president, has given tacit support to Zapatero's ideas after warning that much of Western Europe faces the prospect of "de-industrialisation" coming out of the recession.[6] He has argued that a series of recent events would be seen as game changers, spurring the EU to converge in order to compete. Van Rompuy has said that the "European way of life" was imperilled by the prospect of protracted low structural growth, while the financial crisis and recession as well as the failure of Copenhagen climate talks had shown how the balance of global power was tilting away from Europe which had been put on the defensive.
However, the compulsory nature of Spain's plan risks antagonising Britain and other countries with more liberal economies, which fear a loss of sovereignty on economic issues. Germany has also reacted coolly to the idea of binding economic goals because it fears political interference in the operations of the European Central Bank.
Indeed, far from increasing Spain's international credibility, Zapatero's aggressive proposals have unleashed a wave of incredulity. Commentators across Europe have asked how a country facing an ongoing recession — its worst in 60 years — can be trusted to manage economic recovery of the EU.
In London, the Economist magazine published a scathing column that declared, "Spain now leads the European Union, but not by example. . . . If you want your advice to be heeded, you need something credible to say."[7]
Also in London, the Financial Times ran a story titled, "A Stumbling Spain Must Guide Europe," which described a cyberattack by computer hackers against the Web site of Spain's EU presidency.[8] "On its first day, Web-surfers navigating to the special presidency Web site found themselves staring at photos of Mr. Bean, the hapless British comedy character who (some claim) bears a resemblance to José Luis Rodríguez Zapatero, the Spanish prime minister. Mr. Bean is famous for his stumbles and mishaps — and Spain is also looking accident-prone at the moment."
Elsewhere in Europe, editorials in France, Germany, Italy and the Netherlands have likewise mocked the idea of Zapatero advising Europe on economic recovery. The negative reaction to Zapatero's proposals implies that they have almost no chance of being approved in the coming months without being considerably watered down.
4. Spain's EU Presidency: Middle East
Spain says it will pay special attention to the Middle East and the Islamic world during its EU presidency. Indeed, the Zapatero government can be expected to focus on several key themes: 1) The Union for the Mediterranean; 2) Turkey; and 3) the Arab-Israeli conflict. But as with its economic proposals, the Zapatero government's plans for the Middle East will also run into resistance from other EU member states.
The least controversial proposals involve the Euro-Mediterranean Partnership, formerly known as the Barcelona Process, which was re-launched in 2008 as the Union for the Mediterranean at the Paris Summit for the Mediterranean.[9] The Partnership now includes all 27 member states of the European Union, along with 16 partners across the Southern Mediterranean and the Middle East.
Spanish Foreign Minister Miguel Ángel Moratinos recently said the nascent Mediterranean Union would soon be naming its first secretary general, who will be from an Arab country. He said an announcement would come ahead of the second planned Mediterranean Union summit, which is scheduled for Barcelona in June as part of Spain's six-month EU presidency.
Far more controversially, however, Spain has also strongly advocated Turkey's entry into the European Union.[10] "Turkey is part of the European family of nations. It's better to have it inside the EU than to leave it standing before the door," Moratinos said.
Moratinos endorsed Turkish accession on strategic grounds. "Turkish diplomacy is very well connected in the Middle East and Central Asia where it is taking on an important mediating role. Turkey is also an important partner in the dialogue of civilisations between East and West," he said. "This is our challenge in dealing with the Islamic world: We must show that interfaces exist between Muslim societies and between universal values, which are represented by the EU, that co-existence and consensus are possible."
Spain has promised to try and open four more negotiating chapters in Turkish-EU accession talks during its six-month EU presidency. The talks began in 2005 but just 12 out of 35 chapters have been opened so far due, in part, to opposition by EU member Cyprus, which is locked in conflict with Turkey over the northern part of the island.
But Spain's proposal is sure to meet opposition from other EU member states. Germany and Austria, for example, are two of the EU countries that are most staunchly opposed to Turkish accession. Meanwhile, a new survey of opinion[11] in five EU countries by the Bogazici University in Istanbul and the Granada University and Autonomous University of Madrid in Spain shows that 64 percent of people in France and 62 percent of Germans would say 'No' to Turkey if a referendum was held.
Moratinos has also said that Madrid sees the foundation of a Palestinian state alongside Israel as one of its main priorities under its six-month leadership of the EU.[12] "My idea, and my dream, and my engagement, is to work for having in 2010, finally, a Palestinian state that could live in peace and security with Israel. We are all in the international community defending the two-state solution. Why should we wait for a Palestinian state? We have Israel as a state, we want its neighbour, the Palestinians, to have the same status," he said.
The comments by Moratinos have been met with incredulity in other European capitals, not to mention Washington and Jerusalem.
Meanwhile, Spain assumed command of the European-led United Nations Interim Forces in Southern Lebanon (UNIFIL) from Italy on January 28.[13] In an official ceremony at UNIFIL Headquarters in Naqoura, southern Lebanon, Italy's Major-General Claudio Graziano handed over command to Major-General Alberto Asarta Cuevas of Spain.
In November 2009, Israeli Defense Minister Ehud Barak cancelled a visit to Spain amid a dispute over the command of UNIFIL.[14] The visit was called off after reports surfaced that Israeli Prime Minister Benjamin Netanyahu had secretly asked Italian Prime Minister Silvio Berlusconi to keep Italy in command of the 13,000-strong force for six months longer than planned, instead of allowing Spain to take over.
But Spanish officials, who worried that a six-month delay in taking over the UNIFIL command would deprive Zapatero of an opportunity to help him raise his profile in the region, insisted on the timely transfer.
It remains unclear how Spain's EU presidency will affect the EU's relations with Israel. The Zapatero government (as well as the previous EU rotating presidency, which was held by Sweden) has often raised eyebrows over its consistently antagonistic attitude toward the Jewish state.
During the Swedish EU presidency (July 1, 2009 to December 31, 2009) the EU adopted a resolution that for the first time explicitly calls for Jerusalem to become the future capital of both a Palestinian state and Israel.[15] Backing away only slightly from a more controversial Swedish proposal to officially call for the division of Jerusalem, the EU declared: "If there is to be a genuine peace, a way must be found through negotiations to resolve the status of Jerusalem as the future capital of two states."
The original proposal drafted by Swedish Foreign Minister Carl Bildt, a well-known pro-Palestinian activist, had called for the creation of a "State of Palestine with East Jerusalem as its capital." That proposal had the backing of the Zapatero government. Israeli officials, angry over EU efforts to prejudge the outcome of issues reserved for permanent status negotiations, persuaded French diplomats to remove the offending text, as well as other references to a Palestinian state that would comprise "the West Bank, including East Jerusalem, and Gaza."
Israel has always maintained that Jerusalem will remain its undivided capital, regardless of any future peace settlement with the Palestinians. This has been the declared policy of all Israeli governments, both left and right.
The EU statement, which came just days after Israeli Prime Minister Benjamin Netanyahu announced a 10-month freeze on construction in West Bank settlements, was viewed by many as a European attempt to pre-empt any possible resumption of Middle East peace talks by helping the Palestinians improve their negotiating position vis-à-vis Israel.
Although the 27-member EU has limited clout as a diplomatic player in the Arab-Israel conflict, the EU is the biggest donor of financial assistance to Palestinian Authority, which has been accused of diverting the money to promote terror against Israel. The EU statement could end up disincentivizing a new round of negotiations: the Palestinians may well be emboldened by the EU's tacit acceptance of their key positions and be led to believe that if they hold out longer, the EU will support them on other core issues as well.
5. Spain's EU Presidency: Latin America
Zapatero has said that the Spanish EU presidency will be characterised by being "a Euro-American presidency," paying special attention to the relationships between the EU, Latin America and the Caribbean.[16]
The Zapatero government can be expected to give special attention to the EU's relationship with Cuba. More specifically, Moratinos hopes to modify the EU's 1996 common position on Cuba, which calls for conditioning normal relations with the EU on respect for human rights and progress towards democracy.
But previous efforts by the Zapatero government to de-link political dialogue with Cuba from the issue of human rights on the island have failed, due to resistance from other EU members — notably former communist countries like Poland and the Czech Republic, which insist that the EU should not fully normalize its ties with Cuba until civil and political freedoms are granted to all citizens.[17]
For his part, EU President Herman Van Rompuy says he has had "little time to think about Cuba" since taking office on January. 4.
6. Spain's EU President: New Institutional Dynamics
In launching a series of controversial initiatives, the Zapatero government appears to be signalling its desire to play a leading role in European affairs during its six months at the helm. But the Lisbon reform treaty has created a new leadership dynamic, under which Belgium's Herman Van Rompuy has become the EU's first permanent president, and Britain's Catherine Ashton has become the EU's first permanent foreign minister.
As a result, Spain's biggest challenge will be to navigate the EU's new post-Lisbon institutional structure, which now bestows the EU with four titular presidents — Zapatero, Van Rompuy, José Manuel Barroso (the president of the European Commission), and Jerzy Buzek (the president of the European Parliament) — as well as two foreign ministers, Moratinos and Ashton.
Zapatero says that if anyone wants to "call Europe" they should still call Van Rompuy. But Van Rompuy says that in the EU "there is not one man or one woman who decides. We each have a role."
The Lisbon Treaty was sold on the promise that it would streamline decision-making within the EU, and thus give Europe a bigger voice on the world stage. Spain's EU presidency will be an early indication of whether it ends up doing exactly the opposite.
7. Conclusion
Spain's six-month rotating presidency of the European Union, which began on January 1, 2010, is off to a bumpy start. With the Lisbon Treaty now in effect, the traditional role of the EU rotating presidency has been downgraded. Responsibility for many issues which were once the domain of the rotating presidency now falls to the newly named permanent EU president, Herman Van Rompuy, and EU foreign minister, Catherine Ashton — who together are supposed to comprise the new "public face" of the EU.
Nevertheless, Spanish Prime Minister José Luis Rodríguez Zapatero has announced a series of ambitious initiatives involving EU economic and foreign policy, many of which have been met with skepticism, if not ridicule, by Spain's EU partners. In short, during a six-month period that will test how well the EU's new institutional architecture works in practice, Spain's leadership has been seriously questions and its role at the helm of the union is unclear.
Soeren Kern is Senior Fellow for Transatlantic Relations at the Madrid-based Grupo de Estudios Estratégicos / Strategic Studies Group
---
[1] Encuesta de Población Activa: Cuarto trimestre de 2009. Instituto Nacional de Estadística. January 29, 2010.
[2] World Economic Outlook. International Monetary Fund. January 26, 2010.
[3] El Gobierno aprueba medidas para reducir el déficit público y propone la reforma de las pensiones. Palacio de la Moncloa. January 29, 2010
[4] Proyección de la Poblacion de España a Largo Plazo, 2009-2049. Instituto Nacional de Estadísticas. January 28, 2010
[5] Speech of Prime Minister José Luis Rodríguez Zapatero with President of the European Parliament, Palacio de El Pardo, Madrid, December 3, 2009
[6] Remarks by Herman Van Rompuy, Launch of the Spanish Presidency, Madrid, January 8, 2010
[7] Spain Leads the European Union, But Not By Example, The Economist, January 7, 2010
[8] A Stumbling Spain Must Guide Europe, Financial Times, January 5, 2010
[9] Joint Declaration of the Paris Summit for the Mediterranean, Paris, July 13, 2008
[10] "Die Türkei gehört zu Europa," Interview with Miguel Ángel Moratinos, Die Welt, January 24, 2010
[11] European Perceptions of Turkey as a Future Member State: Results of an Opinion Poll in France, Germany, Poland, Spain and United Kingdom. Bogazici University, Granada University and Autonomous University of Madrid. January 24, 2010
[12] Spanish EU presidency wants Palestinian state in 2010. EU Observer. December 21, 2009
[13] UNIFIL Force Commander Transfer of Authority. UNIFIL, January 28, 2010
[14] Barak Cancels Spain Trip Amid UNIFIL Leadership Crisis. Haaretz. October 30, 2009
[15] Council Conclusions on the Middle East Peace Process. European Council, December 8, 2009
[16] Speech and subsequent colloquium by the President of the Government to present the goals of the Spanish Presidency of the European Union during an event organized by the Association of European Journalists. February 12, 2009
[17] European Parliament Resolution on Cuba, June 21, 2007