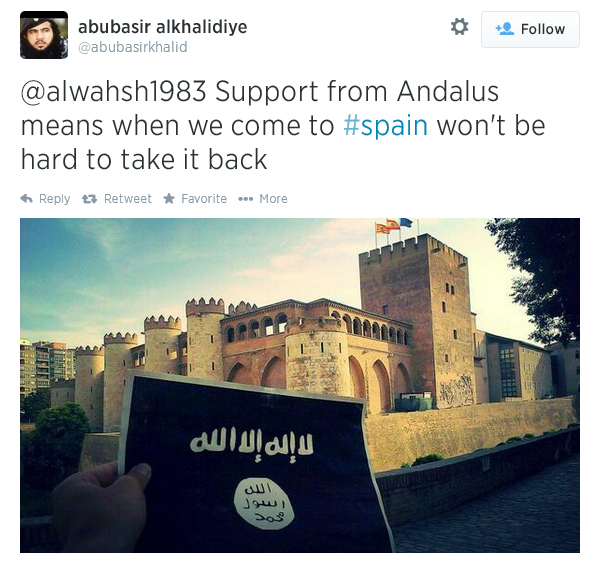 Jihadists have vowed to reconquer Spain from non-Muslims and make it part of their new Islamic Caliphate.
Islamic State: We Will Take Spain Back
Soeren Kern | Gatestone Institute | August 17, 2014
Radical Muslims in Spain have launched a social media campaign aimed at generating support for the jihadist group, Islamic State [IS].
The campaign involves posters that include images of famous Spanish landmarks and monuments emblazoned with Arabic slogans such as, "We are all the Islamic State" and "Long Live the Islamic State."
One poster includes an image of the medieval Islamic Aljafería Palace in the Spanish city of Zaragoza and the black flag associated with the IS. Another uses an image of the famous La Concha beach in the Basque city of San Sebastián. Yet another includes an image of the statue of Jesus Christ on Monte Urgull in San Sebastián, with the Arabic words "Al-Andalus Country" instead of "Basque Country."
Al-Andalus is the Arabic name given to those parts of Spain, Portugal and France that were occupied by Muslim conquerors (also known as the Moors) from 711 to 1492. As the Basque Country is surrounded by mountains, however, the Moors never succeeded in occupying it.
The poster campaign comes after IS jihadists produced a video in which they vow to liberate al-Andalus from non-Muslims and make it part of their new Islamic Caliphate.