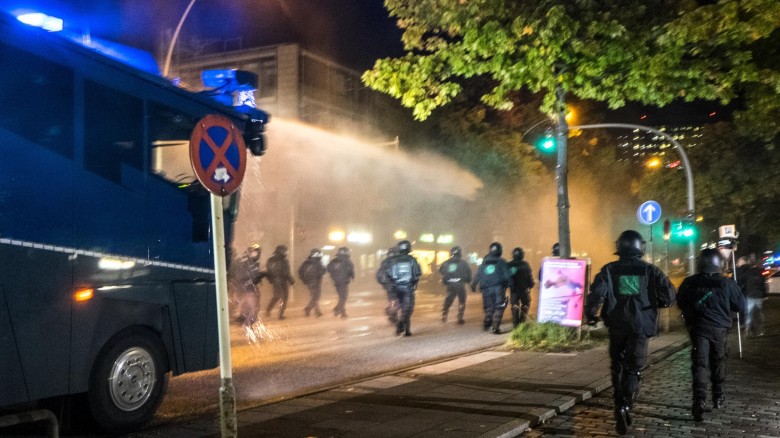 Supporters of the jihadist group Islamic State and ethnic Kurds have engaged in bloody street clashes in Hamburg.
Germany: Holy War Erupts in Hamburg
Soeren Kern | Gatestone Institute | October 15, 2014

Parts of downtown Hamburg, the second-largest city in Germany, resembled a warzone after hundreds of supporters of the jihadist group Islamic State [IS] engaged in bloody street clashes with ethnic Kurds.
The violence—which police say was as ferocious as anything seen in Germany in recent memory—is fuelling a sense of foreboding about the spillover effects of the fighting in Syria and Iraq.
Some analysts believe that rival Muslim groups in Germany are deliberately exploiting the ethnic and religious tensions in the Middle East to stir up trouble on the streets of Europe.
The unrest began on the evening of October 7, when around 400 Kurds gathered outside the Al-Nour mosque near the central train station in Hamburg's St. George district to protest against IS attacks on the Syrian Kurdish town of Kobani.
According to police, the initially peaceful protest turned violent when the Kurds were confronted by a rival group of around 400 Salafists armed with baseball bats, brass knuckles, knives, machetes and metal rods used to hold meat in kebab restaurants.
In the melee that followed, more than a dozen people were injured, including one person who nearly had his leg chopped off by someone wielding a machete, and another person who was stabbed in the stomach with a kebab rod.
Some 1,300 police officers operating water cannons and brandishing batons were deployed to halt the clashes, which lasted into the early morning hours of October 8. In the final tally, hundreds of weapons were seized and 22 people were arrested.
"I had the feeling that we are living in Hamburgistan," the imam of the Al-Nour mosque, Daniel Abdin, told the German newsmagazine Der Spiegel. "The atmosphere was very, very explosive."