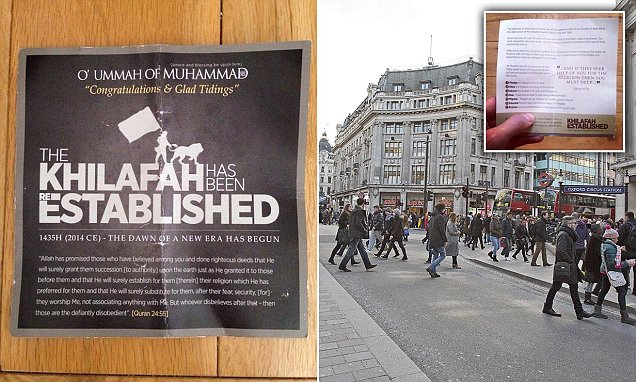 A chronological review of some of the main stories about the rise of Islam in Britain during 2014.
The Islamization of Britain in 2014
Soeren Kern | Gatestone Institute | December 30, 2014
The Muslim population of Britain reached 3.4 million in 2014 to become around 5.3% of the overall population of 64 million, according to figures extrapolated from a recent study on the growth of the Muslim population in Europe. In real terms, Britain has the third-largest Muslim population in the European Union, after France and Germany.
Islam and Islam-related issues were omnipresent in Britain during 2014, and can be categorized into four broad themes: 1) Islamic extremism and the security implications of British jihadists in Syria; 2) the continuing spread of Islamic Sharia law in Britain; 3) the sexual exploitation of British children by Muslim gangs; and 4) Muslim integration into British society.
What follows is a chronological review of some of the main stories involving the rise of Islam in Britain during 2014.
In January, an analysis of census data showed that nearly 10% of the babies and toddlers in England and Wales are Muslim. The percentage of Muslims among children under five is almost twice as high as in the general population. By way of comparison, fewer than one in 200 people over the age of 85 are Muslim, an indication of the extent to which the birth rate is changing the religious demographic in Britain.
Also in January, Muslim fundamentalists threatened to behead a fellow British Muslim after he posted an innocuous image of Mohammed and Jesus on his Twitter account. The death threats against Maajid Nawaz, a Liberal Democrat Party candidate for British Parliament, added to the growing number of cases in which Islamists are using intimidation tactics to restrict the free speech rights of fellow Muslims in Europe.
On January 16, a Muslim woman was arrested by counter-terrorism police at Heathrow Airport as she was preparing to board a flight to Turkey. Nawal Masaad, 26, is accused of trying to smuggle £16,500 ($27,000; €20,000) in her underwear to jihadists in Syria. She and her alleged co-conspirator, Amal El-Wahabi, 27—a Moroccan who does not work and claims British social welfare benefits for herself and two young sons—were the first British women to be charged with terrorism offenses linked to the conflict in Syria.
On January 23, the head of Scotland Yard's counter-terrorism unit, Commander Richard Walton, revealed that 14 British minors were arrested on charges linked to the Syrian conflict in January alone, compared to 24 for the whole of 2013. He said it was "almost inevitable" that some fighters would try to mount attacks in Britain upon their return.
On January 16, British Islamist Abu Waleed outlined his vision of an Islamic state in Britain, and called for Christians to be humiliated so that they would convert to Islam. In a video, he said:
"If the Muslim sees a kaffir [non-Muslim] with nice clothes, the kaffir has to take his clothes off and give them to the Muslim. The kaffir, when he walks down the street, he has to wear a red belt around his neck, and he has to have his forehead shaved, and he has to wear two shoes that are different from one another. He [the non-believer] is not allowed to walk on the pavement, he has to walk in the middle of the road, and he has to ride a mule. That is, my dear brothers, the Islamic state."
In Bristol, the city council approved a controversial plan to convert a former comedy club into a mosque. In Cambridgeshire, a Muslim group submitted plans to convert a warehouse into a new mosque. In Cambridge, locals opposed a plan to build a £17.5 million ($28.5 million; €21 million) mega-mosque, claiming it could be "a front for terrorism." In Blackburn, home to nearly 100 mosques, city councilors were urged to reject a plan to open a mosque in a residential neighborhood.
In Southend, local residents celebrated after a four-year battle resulted in the closing of an illegal mosque. In Newton Mearns, south of Glasgow, plans were abandoned to build a mosque within the grounds of a school in one of the most affluent suburbs of Scotland, due to local criticism of the move.
In Catherine-de-Barnes, a tiny village in western central England, local residents objected to plans for a large, Muslim-only cemetery, which will include space for 4,000 followers of Islam to be buried, and 75 parking spaces for visitors. The village has a population of just 613, which means the cemetery could eventually hold six-and-a-half times as many people as Catherine-de-Barnes itself.