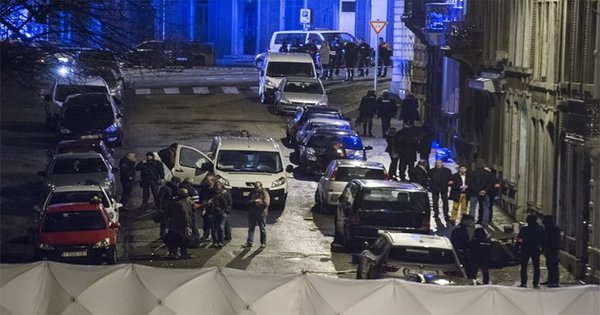 A chronological review of some of the main stories involving the rise of Islam in Europe in January 2015.
A Month of Islam in Europe: January 2015
Soeren Kern | Gatestone Institute | February 21, 2015
In Austria, the government threatened to close the Vienna-based King Abdullah bin Abdulaziz International Centre for Interreligious and Intercultural Dialogue due to its refusal to condemn the flogging of Raif Badawi, a Saudi human rights activist and blogger who has been sentenced to 1,000 lashes and 10 years in prison for "insulting Islam."
Saudi Arabia responded to the threat by issuing a counter-threat to move the permanent headquarters of the Organization of the Petroleum Exporting Countries (OPEC) out of Austria.
Austrian Chancellor Werner Faymann said: "If this center says it stands for interreligious dialogue, then it must do so. But if it wants to remain only an economic center with a religious fig leaf, then Austria should no longer be a part of it. In any event, Austria will not allow itself to be threatened or blackmailed."
On January 20, the government announced a new plan to spend nearly 290 million euros ($330 million) to combat terrorism over the next four years. The largest share of the money (126 million euros) will be dedicated to human resources to provide additional training of specialists for cyber security, crime fighting and forensics. At least 13 million euros will fund de-radicalization" programs aimed at cracking down on Islamic extremism in the country.
In Vienna, city officials closed a private Islamic primary school in the Brigittenau district over concerns that teachers were endangering the welfare of the students. The move came after the principal failed to call an ambulance when a six-year-old pupil was knocked down by a classmate and seriously injured her forehead. The incident was not reported until the following day, when the girl still had significant swelling.
The school's principal allegedly prohibited the teaching staff from cooperating with local authorities in order to not upset the children's parents, many of whom are immigrants from Chechnya. The school said the charges against it were motivated by "Islamophobia."
Previously, Austrian authorities initiated a review of the Islamic Austrian International School in Vienna after local reporters obtained a copy of a school history textbook which contained conspiracy theories and incitement against Jews. It later emerged that some parents had forbidden their children to attend music lessons at the school on the grounds that music is haram, or prohibited in Islam. The music teacher was subsequently fired for drawing attention to the problem.
In Belgium, two suspected jihadists, Sofiane Amghar, 26, and Khalid Ben Larbi, 23, were killed on January 15 in an anti-terror operation in Verviers, a city close to the German border. Prosecutor Eric Van Der Sypt said police had targeted a cell of jihadists returning from Syria who were planning to launch imminent attacks.
After the shootout, police seized police uniforms, explosives and four AK-47 assault rifles. Thirteen other Belgian nationals were charged in connection with the raid, five of whom were charged with "participating in the activities of a terrorist group." The suspected ringleader of the cell, Belgian-Moroccan jihadist Abelhamid Abaaoud, remains at large.