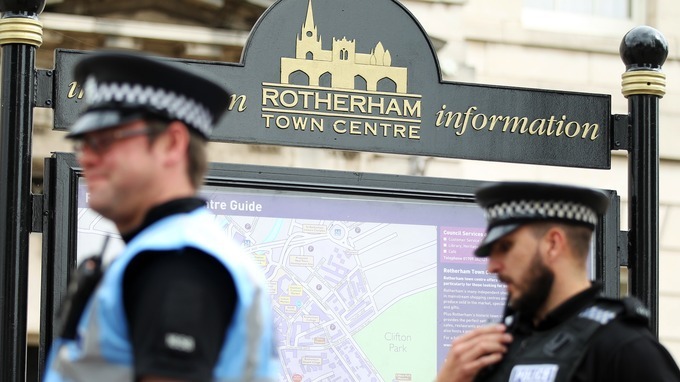 A chronological review of some of the main stories involving the rise of Islam in Britain in January 2015.
A Month of Islam in Britain: January 2015
Soeren Kern | Gatestone Institute | March 4, 2015
Following is a brief summary of some of the main stories involving Islam and Islam-related issues in Britain during January 2015, categorized into three broad themes: 1) Islamic extremism; 2) British multiculturalism; and 3) Muslim integration into British society.
1. Islamic Extremism
On January 7, the British-born Islamist Anjem Choudary defended the jihadist attacks on the offices of the French satirical magazine Charlie Hebdo. In an opinion article published by USA Today, Choudary wrote:
"Contrary to popular misconception, Islam does not mean peace but rather means submission to the commands of Allah alone. Therefore, Muslims do not believe in the concept of freedom of expression, as their speech and actions are determined by divine revelation and not based on people's desires.

"In an increasingly unstable and insecure world, the potential consequences of insulting the Messenger Muhammad are known to Muslims and non-Muslims alike. So why in this case did the French government allow the magazine Charlie Hebdo to continue to provoke Muslims, thereby placing the sanctity of its citizens at risk?"
In a January 13 interview with the Lebanese Murr Television channel, Choudary said that according to Islamic Sharia law, anyone who insults the Prophet Mohammed should be punished by death. He added: "May Allah accept [the attackers] in Paradise."
On January 9, Muslim cleric Mizanur Rahman of Palmers Green, north London, also defended the jihadist attacks in Paris and declared that "Britain is the enemy of Islam." Speaking to an audience in London — his speech was also streamed online to thousands of his followers — Rahman said the cartoonists at Charlie Hebdo were guilty of "insulting Islam" and therefore "they can't expect a different result." He added:
"Clearly what happened in France is a war. These cartoons is [sic] part of their own war, is part of the psychological warfare. You can't have that attitude. You know what happens when you insult Muhammad."
Rahman (who also goes by the name of Abu Baraa) was on police bail after he and Anjem Choudary were arrested in September 2014 on suspicion of terror offenses. Both men deny any wrong-doing and have not been charged.
On January 17, The Guardian reported that a hardcore group of around 30 British women who travelled to Syria to join the Islamic State have been encouraging other women in the UK to carry out terror attacks back home. The report said that the women have been openly praising the Charlie Hebdo shootings and actively calling for more bloodshed, including the beheadings of Westerners.
The report cited a 16-year-old girl from Manchester who celebrated the killings on Twitter, and another British woman who greeted the Charlie Hebdo shootings by writing:
"May Allah give the two mujahideen in France the highest of Jannah [Paradise] and may Allah help them kill as many kafirs [derogatory term for non-Muslims] they can #ParisShooting Ameen."
On January 16, an Islamist from Luton was pictured in Syria brandishing an AK-47 rifle. Abu Rahin Aziz, 32, skipped bail before he was handed a 36-week jail sentence for stabbing a football fan in London's West End. Aziz has been using Twitter to urge other people to join him and to emulate the recent attacks in Paris. In a tweet, Aziz, who also calls himself Abu Abdullah al-Britani, wrote:
"Still deciding to what to do with my #british passport, could burn it, flush it down the toilet, I mean realistically its not worth spitting on."
Meanwhile, The Telegraph reported that a convicted al-Qaeda terrorist with close links to the massacre in Paris cannot be deported from Britain because it would breach his right to a family life. Baghdad Meziane, a 49-year-old British-Algerian who was jailed for eleven years in 2003 for running a terror network recruiting jihadists and fund-raising for al-Qaeda, was released from prison five years early and allowed to return to his family home in Leicester.