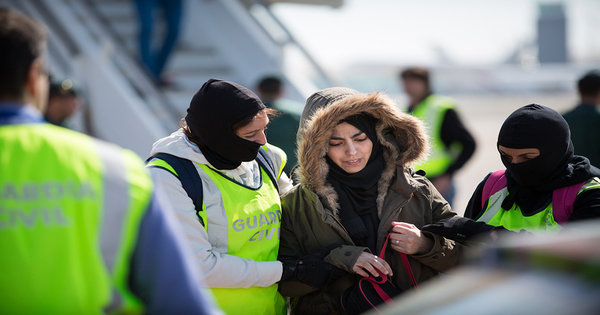 At least 50 jihadists have been arrested in Spain during the past year.
Spain: "The Mediterranean Corridor of Jihadism"
Soeren Kern | Gatestone Institute | March 11, 2015
Spanish police have arrested a Moroccan woman on suspicion of running a jihadist recruiting network for the Islamic State.
Samira Yerou, 32, was arrested at Barcelona's El Prat airport on March 7 upon her arrival on a flight from Turkey, where authorities had detained her for trying illegally to enter Syria with her three-year-old son, a Spanish citizen.
Police say Yerou, who lives in Rubí, a Catalan town situated 15 kilometers north of Barcelona, disappeared in December 2014, while the boy's father, a Moroccan-Spaniard, was away on a trip to Morocco. Spanish authorities issued an international warrant for Yerou's arrest.
In a statement, the Spanish Interior Ministry said Yerou was specialized in recruiting women from Europe and North Africa to join the Islamic State. She allegedly became interested in militant Islam after visiting Morocco during the summer of 2013, and later became radicalized through the Internet by "spending many hours consulting" jihadist websites. The boy, who was unharmed, has been returned to his father.
Yerou is one of at least 50 jihadists who have been arrested in Spain during the past twelve months alone. Most of the arrests have taken place in Catalonia and the Spanish North African exclaves of Ceuta and Melilla.