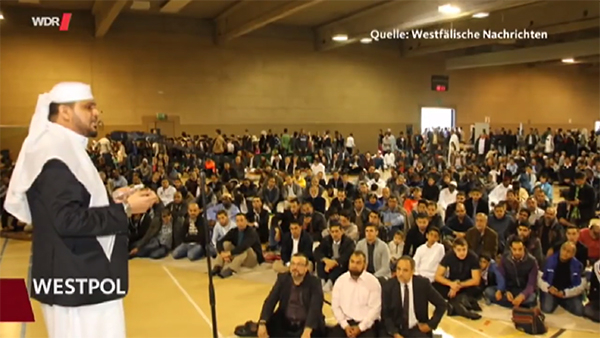 German Salafists are posing as aid workers and are offering gifts of money and clothing in efforts to recruit asylum seekers.
Germany: Salafist "Aid Workers" Recruiting Refugees
Soeren Kern | Gatestone Institute | December 9, 2015
The number of radical Salafists in Germany has more than doubled over the past five years, according to a new estimate by German intelligence officials.
Salafists disguised as aid workers are also canvassing German refugee shelters in search of new recruits from among the nearly one million asylum seekers who have arrived in Germany this year from Africa, Asia and the Middle East.
The revelations by Hans-Georg Maassen, the director of the Germany's domestic intelligence agency, the Bundesamt für Verfassungsschutz (BfV), come amid growing fears that jihadists linked to the Islamic State have infiltrated Germany by posing as refugees.
In a December 3 interview with the Berlin newspaper, Der Tagesspiegel, Maassen said that the number of Salafists in Germany has now risen to 7,900. This is up from 7,000 in 2014, 5,500 in 2013, 4,500 in 2012, and 3,800 in 2011.
Although Salafists make up only a small fraction of the estimated six million Muslims living in Germany today, intelligence officials say that most of those attracted to Salafi ideology are impressionable young Muslims, male and female alike, who are willing to carry out terrorist acts in the name of Islam at a moment's notice.
Salafists — who follow what they say was the original Islam practiced in the 7th and 8th centuries — openly state that they want to replace democracy in Germany (and the rest of the world) with an Islamic government based on Sharia law.
In its annual report for 2014, released in June 2015, the BfV said that Salafism is the "most dynamic Islamist movement in Germany." It added:
"The Salafist scene constitutes a considerable recruitment field for jihad. Salafist ideology purports to be based exclusively on the principles of the Koran, and the example of the Prophet Mohammed and the first three generations of Muslims. The movement also has an affinity for violence. Almost without exception, all of the people with links to Germany who have joined the jihad [Islamic State] had prior contacts with Salafist structures. Also in 2014, Salafists tried to draw attention to themselves with rallies and provocations, including the READ! campaign and the Sharia Police."