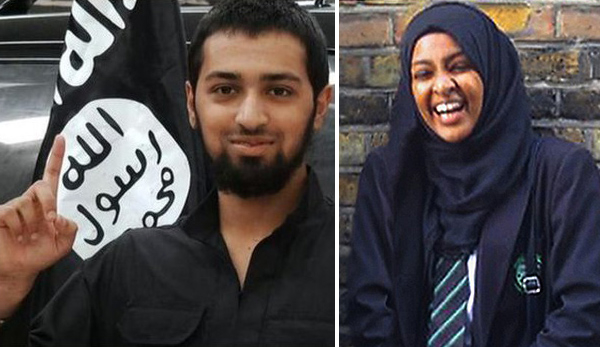 A chronological review of some of the main stories about the rise of Islam in Britain in 2015.
The Islamization of Britain in 2015
Soeren Kern | Gatestone Institute | December 31, 2015
The Muslim population of Britain surpassed 3.5 million in 2015 to become around 5.5% of the overall population of 64 million, according to figures extrapolated from a recent study on the growth of the Muslim population in Europe. In real terms, Britain has the third-largest Muslim population in the European Union, after France, then Germany.
Islam and Islam-related issues were omnipresent in Britain during 2015, and can be categorized into five broad themes: 1) Islamic extremism and the security implications of British jihadists in Syria and Iraq; 2) the continuing spread of Islamic Sharia law in Britain; 3) the sexual exploitation of British children by Muslim gangs; 4) Muslim integration into British society; and 5) the failures of British multiculturalism.
JANUARY 2015
January 7. The British-born Islamic extremist, Anjem Choudary defended the jihadist attacks on the offices of the French satirical magazine, Charlie Hebdo. In an opinion article published by USA Today, Choudary wrote:
"Contrary to popular misconception, Islam does not mean peace but rather means submission to the commands of Allah alone. Therefore, Muslims do not believe in the concept of freedom of expression, as their speech and actions are determined by divine revelation and not based on people's desires.

"In an increasingly unstable and insecure world, the potential consequences of insulting the Messenger Mohammed are known to Muslims and non-Muslims alike. So why in this case did the French government allow the magazine Charlie Hebdo to continue to provoke Muslims, thereby placing the sanctity of its citizens at risk?"
January 9. Muslim cleric Mizanur Rahman of Palmers Green, north London, also defended the attacks in Paris and declared that "Britain is the enemy of Islam." Speaking to an audience in London — his speech was also streamed online to thousands of his followers — Rahman said the cartoonists at Charlie Hebdo were guilty of "insulting Islam" and therefore "they can't expect a different result." He added: "You know what happens when you insult Mohammed."
January 14. Zack Davies, 25, attacked a 24-year-old Sikh named Sarandev Bhambra with a machete at a Tesco supermarket in Mold, north Wales. British newspapers initially portrayed the attack as a "racially-motivated attempt" by a right-wing extremist promoting "white power." It later emerged that Davies is actually a Muslim convert who goes by the name Zack Ali. On the morning of the attack, Davies warned on his Facebook page of his impending assault, posting four verses from the Koran that call for violence against non-Muslims.
January 16. Rahin Aziz, an Islamist from Luton, was pictured in Syria brandishing an AK-47 rifle. In a tweet, Aziz, who also calls himself Abu Abdullah al-Britani, wrote: "Still deciding to what to do with my #british passport, could burn it, flush it down the toilet, I mean realistically its not worth spitting on."