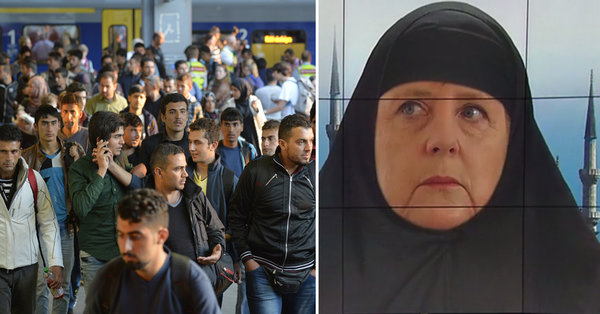 A chronological review of some of the main stories about the rise of Islam in Germany in 2015.
The Islamization of Germany in 2015
Soeren Kern | Gatestone Institute | January 10, 2016
Germany's Muslim population skyrocketed by more than 850,000 in 2015, for the first time pushing the total number of Muslims in the country to nearly six million.
Of the one million migrants and refugees who arrived in Germany in 2015, at least 80% (or 800,000) were believed to be Muslim, according to estimates by the Central Council of Muslims in Germany (Zentralrat der Muslime in Deutschland, ZMD), a Muslim umbrella group based in Cologne.
In addition to the newcomers, the natural rate of population increase of the Muslim community already living in Germany is approximately 1.6% per year (or 77,000), according to data extrapolated from a recent Pew Research Center study on the growth of the Muslim population in Europe.
Based on Pew projections, the Muslim population of Germany reached an estimated 5,068,000 by the end of 2014. The 800,000 Muslim migrants arriving in Germany in 2015, combined with the 77,000 natural increase, would indicate that the Muslim population of Germany jumped by 877,000, to reach an estimated 5,945,000 by the end of 2015. This would leave Germany vying with France for the highest Muslim population in Western Europe.
Muslim mass migration is fast-tracking the rise of Islam in Germany. It is also responsible for a host of social disruptions, including a rape epidemic, a public health crisis, and a rush by German citizens to purchase weapons for self-defense. What follows is a chronological round-up of some of the key stories in 2015.