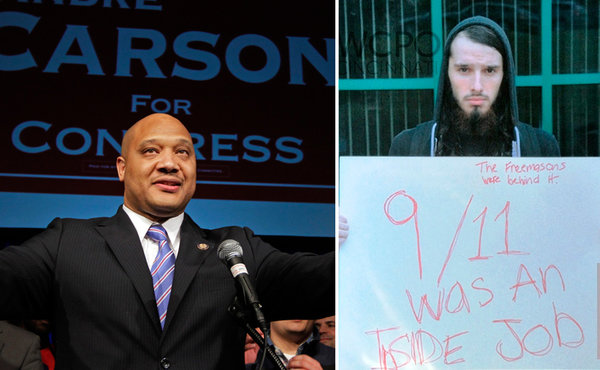 A chronological review of some of the main stories about Islam and Islamism in America during the first quarter of 2015.
Islam and Islamism in America in 2015: Part 1
Soeren Kern | Gatestone Institute | January 23, 2016
The Muslim population of the United States surpassed 3.5 million in 2015, according to demographic projections compiled by the Pew Research Center. In percentage terms, Muslims currently comprise roughly 1% of the US population.
As in Europe, Islam was an ever-present topic in American newspaper headlines during 2015. Most news items involved terrorism-related issues — including many cases of lone-wolf terrorists — closely followed by articles about Muslim integration and assimilation.
JANUARY 2015
January 6. Officials at the Rocky Heights Middle School in Littleton, Colorado, ignited controversy when they told female students to dress according to Sharia law while visiting a mosque during a field trip. Peter Boyles, a radio talk show host in Denver, said: "Public schools are forbidden from holding girls to different standards than boys. They're holding these girls to a different standard, it's a religious reason. Islam dictates many … repressive practices against women…. That's their belief … but don't apply it to public school kids."
January 7. Hashim Hanif Ibn Abdul-Rasheed, a 41-year-old Muslim armed with two knives taped to his legs, attempted to buy a plane ticket at the Port Columbus International Airport in Columbus, Ohio. Abdul-Rasheed was shot after he lunged at a police officer. Police said his behavior was "consistent with someone who intended to hijack an aircraft."
January 9. Abdalah Mohamed, a 19-year-old migrant from Kenya, was arrested after he threatened to kill the owner of a Jewish delicatessen in Portland, Oregon. Police said Mohamed entered the store asking for a single cigarette. When the owner replied that he did not sell individual cigarettes, Mohamed reportedly said: "I will blow up your store. I'm going to take care of you, you mother (redacted). I'll call my people to take care of you to shoot you! I will blow up your store in the name of Allah, I will take care of people like you!"
January 12. ISIS sympathizers hacked the official Twitter account of the US Central Command, the Pentagon division in charge of the Middle East. One tweet sent from CENTCOM's account stated: "American soldiers, we are coming, watch your backs." Another tweet said: "ISIS is already here.… With Allah's permission we are in CENTCOM now."