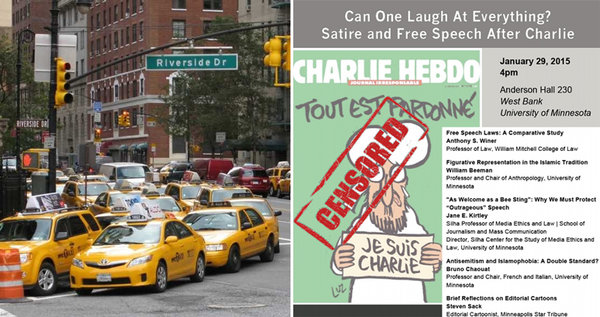 A chronological review of some of the main stories about Islam and Islamism in America during the second quarter of 2015.
Islam and Islamism in America in 2015: Part 2
Soeren Kern | Gatestone Institute | January 29, 2016
The following is a chronological survey of some of the main stories about Islam and Islamism in America during the second quarter of 2015. Part 1 of this series can be found here.
APRIL 2015
April 1. Ahlam Ahmed, an 18-year-old year-old from Queens, said she wanted to become the first female Muslim firefighter in New York City. Ahmed stands five feet tall and weighs just 105 pounds. In an interview with the Village Voice, Ahmed expressed more concern over the dress code than the physical requirements for the job. "I have to be covered," she said. "I love wearing the scarf. It's for protection." FDNY press officer Elisheva Zakheim said: "We try to accommodate religious practices, but safety is our first concern, be it male or female. We approach a lot of these questions on a case-by-case basis."
April 2. A study by the Washington, DC-based Pew Research Center forecast that, if current trends continue, there will be more Muslims in North America than Jews by 2035. The study, "The Future of World Religions: Population Growth Projections, 2010-2050," states that in the United States, Muslims will comprise 2.1% of the population in 2050, up from 0.9% in 2010. Jews, meanwhile, will fall to 1.4% of the U.S. population from 1.8% in 2010.
April 2. A newsletter distributed by the Republican Central Committee in Bonneville County, Idaho, included an article, "Islam in Idaho," which warned that Muslims are "infiltrating" the state, and that Muslims have been taught to "be ready to rise up and kill" non-Muslims. The article called on readers to "demand that our lawmakers and law enforcers pay attention and ascertain whether or not there is a potential threat."
April 7. A scheduled screening of "American Sniper" at the University of Michigan was abruptly cancelled after school officials received complaints that the film perpetuates "negative and misleading stereotypes" against Muslims. A statement said: "While our intent was to show a film, the impact of the content was harmful, and made students feel unsafe and unwelcomed at our program." On April 16, the university reversed its decision.
April 8. Writing in a magazine called Index on Censorship, the organizers of a women's conference at the University of South Dakota recounted attempts by Muslim groups to ban a screening of Honor Diaries, a documentary about the worldwide problem of honor killings and other violence against women.