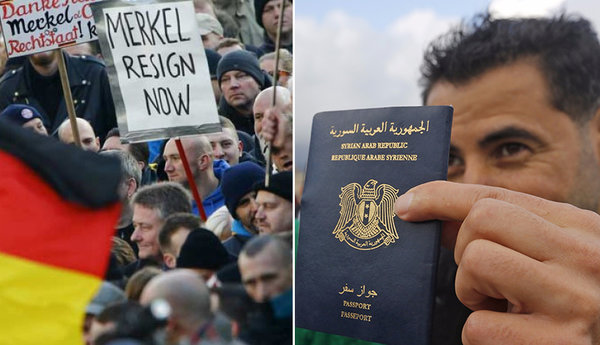 Angela Merkel refuses to implement the one policy that could prevent the migrant crisis from becoming even worse: closing German borders.
Germany's Migrant Deportation Plan: "Political Charade"
Soeren Kern | Gatestone Institute | February 1, 2016
After three months of political infighting, Germany's coalition government has announced new measures aimed at making it easier to deport migrants who are convicted of committing crimes.
The measures emerged in response to voter outrage over the sexual assaults of hundreds of women by migrants in Cologne and other German cities on New Year's Eve — and alleged attempts by the government and the news media to cover up the crimes.
Known as the Asylum Package II (Asylpaket II), the draft law was announced by the cabinet on January 28 and must now be approved by the Bundestag, the lower house of the German parliament, for it to come into effect.
A central feature of the plan involves increasing the number of migrant reception centers to five, up from two today. The centers would supposedly fast-track legitimate asylum requests submitted by people who can prove they are fleeing warzones.
The centers would also step up efforts to weed out fraudulent applications submitted by economic migrants who are posing as asylum seekers. The stated aim is to eventually deport those who arrived in Germany under false pretenses.
In addition, the plan would introduce a two-year waiting period for legitimate refugees who want to bring family members to Germany. Exceptions would be made for those who can prove that their family members are being "personally, urgently persecuted."
The government also said that it would try to limit migration from North Africa by declaring Algeria, Morocco and Tunisia as so-called safe countries, where there is no armed conflict or threat of violence, persecution or torture. This would make it virtually impossible for asylum applications from those countries to be approved.
Critics of the plan say it is more of a political charade than substance and will do little to alleviate Germany's migration crisis.