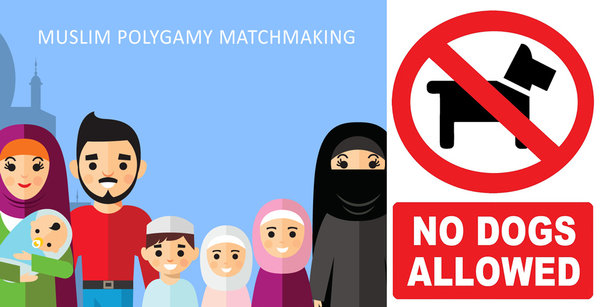 A chronological review of some of the main stories involving Islam in Britain during July 2016.
A Month of Islam in Britain: July 2016
Soeren Kern | Gatestone Institute | August 30, 2016
July 1. A Muslim taxi driver in Leicester refused to pick up a blind couple because they had a guide dog. Charles Bloch and Jessica Graham had booked a taxi with ADT Taxis for them and their guide dog, Carlo. But when the taxi arrived, the driver said, "Me, I not take the dog. For me, it's about my religion." Many Muslims believe dogs are impure and haram (strictly forbidden).
July 1. A judge in London ordered the deportation of Saliman Barci, a 41-year-old Albanian man who posed as a refugee from Kosovo and collected the full range of welfare payments in Britain for 14 years. Barci, it turned out, was a citizen of Albania who had murdered two men there in 1997.
July 2. A Somali man was sentenced to ten years in prison for raping two women in Birmingham. Dahir Ibrahim, 31, had previously been sentenced to ten years in 2005 for raping a woman in Edgbaston. A judge had ordered his deportation after he had served his first sentence, but he appealed and was allowed to remain in Britain. Ibrahim's attorney, Jabeen Akhtar, successfully argued that he had a lack of understanding of what is acceptable in the United Kingdom.