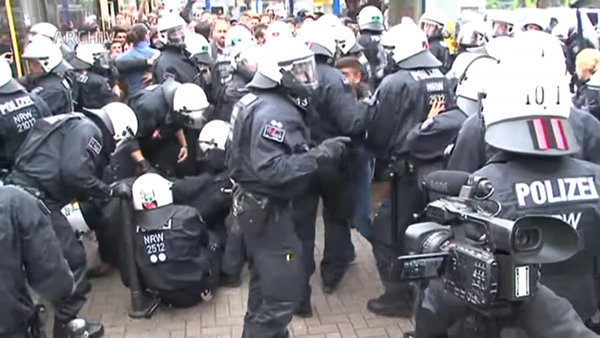 Police in many parts of Germany say they are stretched to the limit and unable to maintain law and order amid a spike in crimes committed by migrants.
German Streets Descend Into Lawlessness
Soeren Kern | Gatestone Institute | October 31, 2016
The rape of a ten-year-old girl in Leipzig, the largest city in Saxony, has drawn renewed attention to the spiraling levels of violent crime perpetrated by migrants in cities and towns across Germany — and the lengths to which German officials and the media go to censor information about the perpetrators of those crimes.
The girl was riding her bicycle to school at seven o'clock in the morning on October 27 when a man ambushed her, threw her to the ground and raped her. The suspect is described as being in his mid-thirties with short brown hair and a stubble beard.
Leipzig police have explicitly refused to say whether the suspect is a migrant, but have implicitly admitted that he is. They published a facial composite of the suspect with the politically correct warning:
"This image is to be published only in print media in the greater Leipzig area. Publishing this image on the internet, including on social media such as Facebook, is not covered by the court's manhunt order (Beschluss zur Öffentlichkeitsfahndung) and is therefore prohibited."
The effort to censor information about the rape, in which German officials show themselves to be more concerned about protecting the identity of the rapist than the welfare of the victim or other girls he might attack, is almost unprecedented in Germany.
To its credit, the Berlin-based newspaper, Bild, responded: "BILD is ignoring this request. We want to ensure that the suspect is arrested as quickly as possible." Indeed, Bild has been one of the only newspapers in Germany even to publish not only the image but also report the story of this rape.
Violent crime — including rapes, sexual and physical assaults, stabbings, home invasions, robberies, burglaries and drug trafficking — has skyrocketed in Germany since Chancellor Angela Merkel welcomed into the country more than one million mostly male migrants from Africa, Asia and the Middle East. Few, if any, of the migrants were vetted before being allowed to enter Germany.