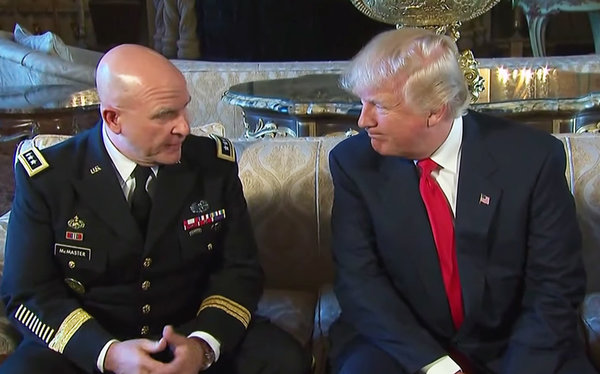 Key members of Trump administration hold widely divergent views on the threat posed by radical Islam — and on the nature of Islam itself.
White House Officials Divided on Islam, ISIS, Israel and Iran
Soeren Kern | Gatestone Institute | April 5, 2017
The people U.S. President Donald J. Trump has chosen to lead his foreign policy team may complicate efforts to fulfill his inaugural pledge to eradicate "radical Islamic terrorism" "from the face of the Earth" — a Herculean task even under the best of circumstances.
An analysis of the political appointments to the different agencies within the U.S. national security apparatus shows that the key members of the president's foreign policy team hold widely divergent views on the threat posed by radical Islam — and on the nature of Islam itself. They also disagree on approaches to Iran, the Arab-Israeli conflict, the European Union, Russia, globalism and other national security issues.
The policy disconnect is being exacerbated by the fact that dozens of key positions within the Pentagon, the State Department and other agencies remain unfilled. The result is that the administration has been relying on holdovers from the Obama administration to formulate and implement U.S. foreign policy.
Current foreign policy advisors can be roughly divided into several competing factions and ideological schisms: career staffers versus political appointees, civilian strategists versus military tacticians, Trump supporters versus Obama loyalists, politically correct consensus-seekers versus politically incorrect ideologues, New York moderates versus populist hardliners, Palestinian sympathizers versus advocates for Israel, proponents of the Iran deal versus supporters of an anti-Iran coalition — and those who believe that Islamism and radical Islamic terrorism derive from Islam itself versus those who insist that Islam is a religion of peace.
The winners of these various power struggles ultimately will determine the ideological direction of U.S. policy on a variety of national security issues, including the war on Islamic terror.
During his presidential campaign, voters were promised a radical shift in American foreign policy, and the consensus-driven foreign policy establishment in Washington was repeatedly blamed for making the world less stable and more dangerous.
Although much can change, the current incarnation of the national security team indicates that the administration's foreign policy, especially toward the Middle East and the broader Islamic world, may end up being more similar than different to that of the Obama administration. Those hoping for a radical change to the politically correct status quo may be disappointed.